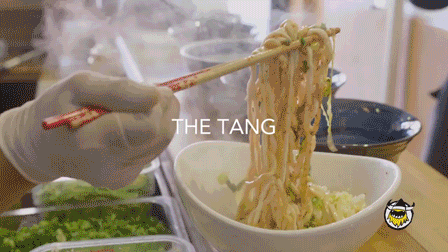 The Tang is a contemporary Asian noodle bar that started in the heart of the East Village and is currently located on the Upper West Side, The Tang is transformed into a full-fledged eatery bringing a greater variety of Asian cuisine to New York City.
The Tang is inspired by regional Chinese cooking style from Sichuan, Hunan, and Beijing. Offering a variety of items that can't be defined by regions—from classic dishes such as Braised Beef Noodle Soup and Braised Pork Knuckles, to novelty dishes such as Coca-Cola Chicken Wing and Fried Tiger Prawn with Salted Egg Yolk, from classic Chinese beer to smooth Japanese sake, the Tang is exactly the place that brings comfort and doesn't fail to surprise.
Contact us: li@thetangnyc.com
If you have any private catering request, please fill out the request form below and we will reach out to you shortly.
Press
For any media/press opportunities, please contact Ruby Chen at ruby@creativebynoon.com for inquiry.
New York Times
By Priya Krishna
First We Feast
By First We Feast Staff
eater ny
By Serena Dai and Stefanie Tuder
Secret NYC
By Caitlin Horsfield
Grubstreet
By Robin Raisfeld and Rob Patronite
eater ny
By Robert Sietsema